Beginning in 1908 through to 1948, elections of NCN Chief and Councillors were typically held every year, except during World War II, when there was a five-year gap between the 1939 election and the next one in 1944. From 1944 to 1961 the length of time between elections varied, but from 1961 to 1998, they were generally held every two years.
The Nisichawayasihk Cree Nation Election Code was adopted in 1998, establishing that elections be held every four years.
View a complete list of previous Chiefs and Councillors from dating back to 1908 below.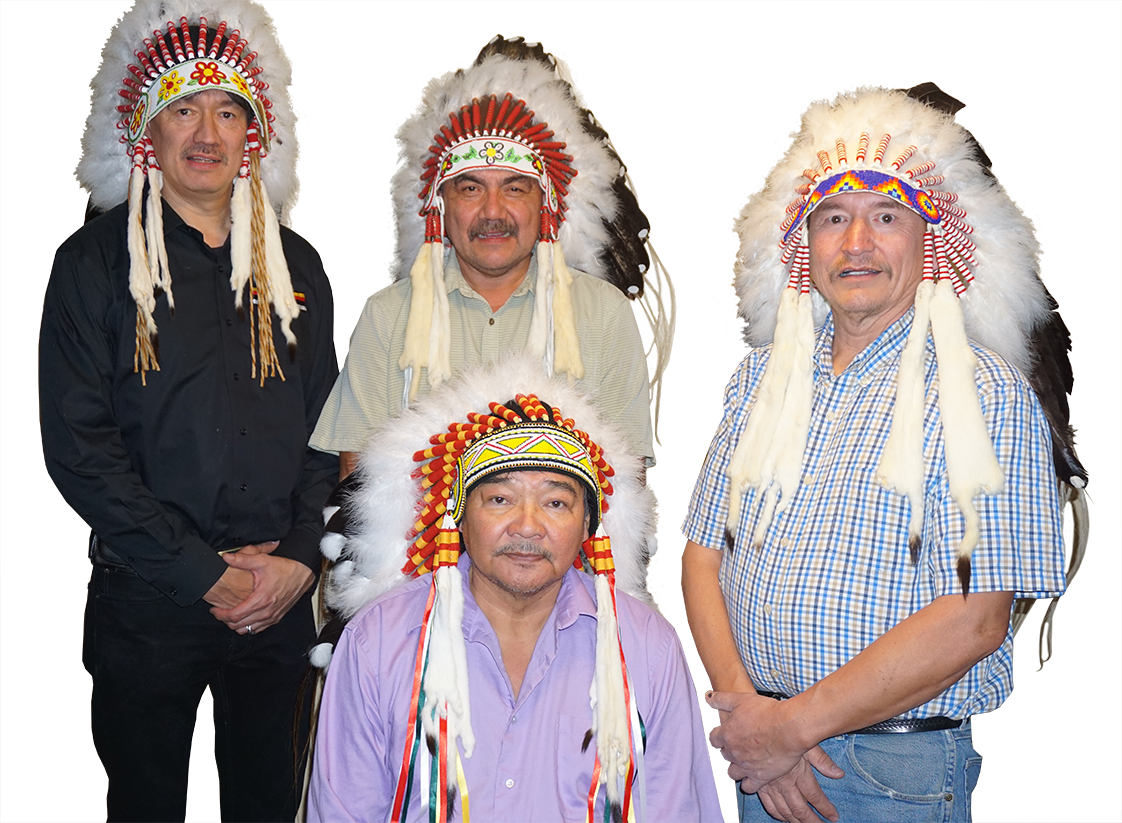 The Last four NCN Chiefs, Marcel Moody, Jim Moore, Jerry Primrose and Norman Linklater
Chief
Councillors
2022-2026

Angela Levasseur
Marcel Moody (Deputy Chief)
Cheryl Moore
Ron D. Spence
Jeremiah Spence
Kim Linklater
Shirley Linklater
2018-2022
View the Chief and Council from this term
Marcel Moody
Cheryl Moore (Vice Chief)
Ron D. Spence
Willie Moore
Jackie Walker
Jeremiah Spence
Cheyenne Spence
2014-2018
Marcel Moody
Shirley Linklater
Ron D. Spence
Joe Moose
Patrick Linklater
Bonnie Linklater
Willie Moore
2010-2014
Jerry (Spence) Primrose (2010-2014)
Interim Chief Marcel Moody (2014)
Shirley Linklater
Ron D. Spence
Joe Moose
D'Arcy Linklater
Patrick Linklater
Marcel Moody
2006-2010
Jim (Jimmy) Moore
Shirley Linklater
Ron D. Spence
Agnes M. Spence
D'Arcy Linklater
Patrick Linklater
Marcel Moody
2002-2006
Jerry (Spence) Primrose
Shirley Linklater
William Elvis Thomas
Agnes M. Spence
David M. Spence
D'Arcy Linklater
Jimmy Hunter Spence
1998-2002
Jerry (Spence) Primrose
William Elvis Thomas
Agnes M. Spence
Jim (Jimmy) Moore
David M. Spence
D'Arcy Linklater
Jimmy Hunter Spence
1996-1998
Jerry (Spence) Primrose
Felix Walker
Gail Gossfeld
David M. Spence
D'Arcy Linklater
Patrick Linklater
Llewelyn Moody
Norman Linklater
Henry Wood
1994-1996
Jerry (Spence) Primrose
David M. Spence
D'Arcy Linklater
Eddy Primrose
Andrew Wood
Jerry Brightnose
Patrick Linklater
Llewelyn Moody
Marcel Moody
1992-1994
Norman Linklater
Patrick Linklater
Carol Prince
Llewelyn Moody
Marcel Moody
Leonard Linklater
Henry Wood
1990-1992
Norman Linklater
Llewelyn Moody
Marcel Moody
James Nicholas
Leonard Linklater
Henry Wood
Charlie James Hart Jr.
1988-1990
Rodney Spence
Norman Linklater
George C. R. Spence
Henry Wood
Charlie James Hart Jr.
1986-1988
Rodney Spence
Jerry McDonald
George Linklater
Norman Linklater
Alfred Linklater
Jimmy Hunter Spence
Leonard Linklater
1984-1986
Rodney Spence
Jerry McDonald
George Linklater
John Jock Spence
Norman Linklater
Alfred Linklater
Charlie James Hart Jr.
1982-1984
Rodney Spence
Jerry McDonald
George Linklater
John Jock Spence
Norman Linklater
Henry Linklater
Charlie James Hart Jr.
1980-1982
Rodney Spence
Henry Wood
Jerry McDonald
George Linklater
Jerry (Spence) Primrose
John Jock Spence
Peter Spence
1978-1980
Rodney Spence
Henry Wood
Jerry McDonald
George Linklater
Jerry (Spence) Primrose
Alice Moore
John Jock Spence
1976-1978
Nelson Linklater
David Flett
Benjamin Wood
Leda McDonald
Jonah Wood
William Thomas
David Bonner
1974-1976
Peter Spence
John Jock Spence
Isaac Hartie
Sam Hart
Anne Moore
Leda McDonald
Benjamin Spence
1972-1974
Rodney Spence
Charlie James Hart Jr.
John Jock Spence
Martin Nicholas
David Moose
Benjamin Wood
Solomon Nicholas
Solomon Donkey
Sam Linklater
1970-1972
Nelson Linklater
Isaac Hartie
Alfred Moore
Abraham Spence
Betsy Moody
Robert Linklater
1969
Donald Spence
David Flett
Jimmy Spence
Bernard Linklater
Jean Francois
1968
Kenneth Spence
Lawrence Spence
Joseph Linklater
Peter Spence
Benjamin Wood
Solomon Nicholas
Abraham McDonald
Nelson Linklater
Miles Hart Jr.
1965-1967
Thomas Linklater
Alex Spence
John Charles McDonald
Joseph Linklater
Sam Hart
Thomas (Tommy) Thomas
Anne Moore
Solomon Donkey
Jimmy Spence
Sandy Wood
Evelyn Moody
Felix McDonald
1963-1965
Lawrence Spence
David Spence
Angus Linklater
Luke Moose
Miles Hart Jr.
Thomas (Tommy) Thomas
Sam Linklater
Sandy Spence
Joe Moose
Lottie Moore
Nancy Linklater
Solomon Francis
Thomas Linklater ('64)
1961-1963
Gilbert McDonald
Alex Spence
John Charles McDonald
Miles Hart Jr.
Luke Moose
Charlie Hart Sr.
Isiah Spence
Joseph Moose
Zacheus McDonald
Edward Linklater
1958-1961
Kenneth Spence
Alex Spence
Joseph Linklater
John Charles McDonald
Peter Spence
Basil Colomb
Moses Moore
Lazarus Spence
Thomas Spence
1957
Thomas Linklater
Isaac Hartie
Alvin Moody
Charlie Moody
John Spence
Angus Linklater
Sam Hart
1953-1956
Kenneth Spence
Alex Spence
William Moore
Isaac Hartie
David Spence
Lawrence Spence
Joseph Linklater
John Charles McDonald
1948-1953
Richard Hartie
Stanley Spence
Solomon Hart
Elias Spence
David Flett
Alex Spence
1947
Miles Hart
Stanley Spence
Beth Rugina
Solomon Hart
Elias Spence
1946
Gilbert McDonald
Thomas Linklater
Moose Murdoch
Stanley Spence
Alfred Moore
1945
Richard Muswagon
Thomas Linklater
Jerome Nicholls
Miles Hart
1944
Richard Muswagon
Thomas Linklater
Jerome Nicholls
Gilbert McDonald
Miles Hart
1938-1939
Angus Bonner
Thomas Linklater
Jerome Nicholls
Gilbert McDonald
Miles Hart
1936-1938
Richard Hartie
Thomas Linklater
Jerome Nicholls
Gilbert McDonald
Miles Hart
1935
Richard Hartie
John Bear Short (Hart)
Robert (Robbie) Spence
Thomas Linklater
Jerome Nicholls
Gilbert McDonald
Miles Hart
1934
Matthew Wood
John Bear Short (Hart)
Robert (Robbie) Spence
Thomas Linklater
Jerome Nicholls
1933
Matthew Wood
John Bear Short (Hart)
Robert (Robbie) Spence
Thomas Linklater
1932
Matthew Wood
John Bear Short (Hart)
Sam Ross
Robert (Robbie) Spence
Thomas Linklater
1927-1932
Albert Moose
William Moose
Matthew Wood
Angus Bonner
John Bear Short (Hart)
1926
Albert Moose
William Moose
Matthew Wood
Richard Hartie
Angus Bonner
1925
Joseph Hartie
William Moose
Matthew Wood
Richard Hartie
Albert Moose
Angus Bonner
1924
Joseph Hartie
William Moose
Matthew Wood
1916-1924
Joseph Hartie
James Spence
William Moose
1913-1916
Pierre Moose
James Spence
William Moose