NCN Votes YES to Land Code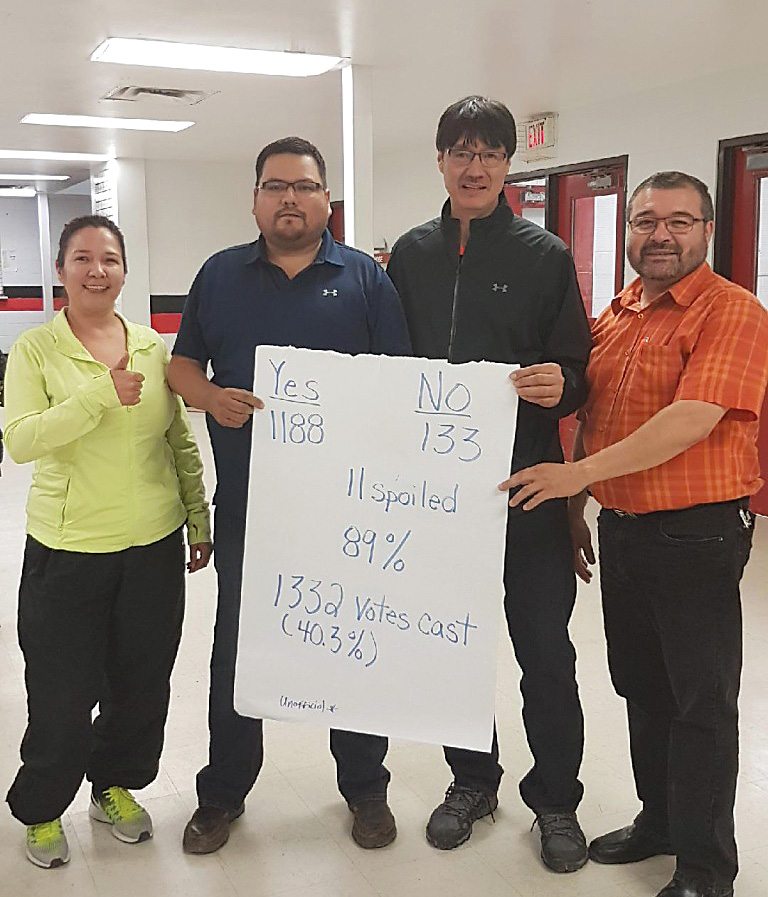 After years of tireless work and cooperation, NCN Citizens voted YES to our Aski Pumenikewin Land Code. In the future, our children and grandchildren will remember this as a time that NCN Citizens made a choice to create our own path forward for our people, our land, our community and our resources. The Land Code gives us formal and sole authority to determine the future of the lands and resources of our home.
The voting statistics were impressive, and can be reviewed in the chart below. For example, almost half of all eligible voters living in NCN (44%) made their voices known!
In fact, voter participation to adopt our land code was one of the highest ever seen across Canada among reserves working to create self-sufficiency. Of the 1,326 people who voted, almost 90% voted YES for our Land Code. It is obvious that self-governance is essential for NCN Citizens.
The road to achieving this important step in our sovereignty was difficult and long. The consultation process included workshops, public meetings and home visits throughout Nelson House, Thompson, Leaf Rapids and Winnipeg. Drafts of the documents were revised several times with suggestions from NCN Citizens incorporated.
The land code committee, Elders and other volunteers put in so much of their time, effort, minds, hearts and souls into this process. Chief and Council are very thankful for the hard work of all those involved.
Our Land Code is a clear victory, and it will lead the way to more programs and services for our Citizens.
Congratulations, Nisichawayasihk Cree Nation!
Eligible
Voters
Voters
Registered
Ballots
Cast
%
Voting
Number of
YES Votes
%
YES
Number of
NO Votes
%
NO
LEAF RAPIDS
138
14
41
30%
40
29%
1
1%
THOMPSON
339
122
122
36%
114
34%
8
2%
WINNIPEG
336
59
59
18%
53
16%
6
2%
NCN
1,582
702
702
44%
602
38%
95
6%
MAIL-IN
—
7
7
—
7
100%
0
0%
E-VOTE
—
395
395
—
372
94%
23
6%
WITHIN MB, US, CA
912
—
—
—
—
—
—
—
TOTAL
3,307
1,326
1,326
40%
1,188
36%
133
10%
Notes:

There were 5 spoiled/rejected ballots and 2 ballots with no registration
All percentages have been rounded
Some voters registered in a different location than they live so their ballots are included where they registered in-person
VOTER INFORMATION PACKAGE – Nisichawayasi Aski Pumenikewin (Land Code)
To view, print or download the Nisichawayasihk ASKI PUMENIKEWIN (NCN Land Code) voter package please click the eight document links below. The voter packages have been sent out to the last known addresses of NCN Citizens on the voting list.
NCN Community Ratification Vote
A Ratification Vote will be held in accordance with the Nisichawayasihk Cree Nation Community Ratification Process from July 21, 2017 to August 25, 2017, in order to determine if Onuwosonekew (voters) approve the Nisichawayasi Aski Pumenikewin (land code) and the Individual Agreement.
The Ratification Vote will include:
1. Electronic Voting from July 21, 2017 to August 25, 2017
2. Mail-in-Voting from July 30, 2017 to August 18, 2017
3. In-person Voting in Winnipeg, Thompson, Leaf Rapids and Nelson House on the dates set out at the link below.
---
ASKI PUMENIKEWIN (NCN LAND CODE) Electronic Voting Process
Vote online from July 21, 2017 to August 25. NCN Citizens can vote online to make it easy to record their vote for the Nisichawayasi Aski Pumenikewin (Land Code). THE WHOLE PROCESS ONLY TAKES 2-3 MINUTES TO COMPLETE YOUR ELECTRONIC VOTING PROCESS.
STEP-BY–STEP VOTING INSTRUCTIONS
STEP 1: Visit the OneFeather landing page https://onefeather.ca/nations/nisichawayasihk/elections/ncnlandcode to register with OneFeather and initiate the electronic voting process.
STEP 2: Have your 10 Digit Status Card Number (Registry Number), Date of Birth and Personal Email ready. Click the red Register to Vote Button – enter your Registry Number and Date of Birth then click the red Register button.
STEP 3: Update your contact information and enter your personal email address – double check your email address to make sure it is correct then click the red Register button.
STEP 4: Watch your email…you will be sent an email with a confirmation link – click the verification link to confirm and activate your eligibility to vote electronically. (If you do not see the email within 5 minutes – check your junk email folder).
STEP 5: Watch your email for a second email following immediately from OneFeather. This email will have your PIN (unique personal identification number) and a secure link to the voting event. Write down your PIN (always lower case) Click the link in the email to Vote!
STEP 6: Read the instruction pages – click Next when ready to proceed.
STEP 7: Complete your identity verification – enter your PIN, Registry Number and Date of Birth. Confirm that you want to vote electronically – check the box! Click the red Verify My Identity box.
STEP 8: Follow the voting instructions and make your Vote!
STEP 9: Confirm your Vote.
STEP 10: Share your voting experience and encourage other Members to vote.
For help with the online vote please contact Joyce Yetman 204-679-0506.
OTHER WAYS TO VOTE
MAIL-IN VOTING (July 21 to August 18, 2017)
To vote by mail-in ballot, you will need to complete the form on your Registration and Identification envelope, which is included the package you recieve in the mail. Your ballot must be sent in the pre-addressed envelope addressed to Joyce Yetman, Ratification Officer by August 18, 2017 by 4:00pm. To cast a Mail in Ballot, you must:
Mark the ballot by placing a cross ("X") in the box marked "YES" or in the box marked"NO".
Enclose and seal the ballot in the secrecy envelope.
Enclose and seal the secrecy envelope in the registration envelope.
Complete and sign the registration envelope in the presences of a witness, who is at least 18 years of age. The witness will sign registration verifying your signature.
Enclose and seal the registration envelope in the mailing envelope (pre-addressed envelop).
Mail or Deliver the sealed mailing envelope to the Ratification Officer (address above).
NOTE: The Ratification Officer will check your registration form when your mail-in ballot is received and may contact you if it is not complete. Your secrecy envelope will be deposited in a ballot box and opened separately from your registration envelope; your vote will remain a secret.
IN-PERSON VOTING (August 14- August 25, 2017 in various locations)
If you prefer to do in-person voting please go to the voting station nearest you on the dates outlined below.
AUGUST 14, 2017
12:00 pm – 8:00 pm REGULAR VOTING DAY
LEAF RAPIDS, MB
Town Center
AUGUST 17-19, & 24-25, 2017
9:00 am – 8:00 pm REGULAR VOTING DAY
NELSON HOUSE
Gilbert McDonald Arena (at the carnival tent outside.)
AUGUST 21 ,22, 2017
9:00 am – 8:00 pm REGULAR VOTING DAY
WINNIPEG
Marlborough
AUGUST 15-16, 2017
9:00 am – 8:00 pm REGULAR VOTING DAY
THOMPSON
Mystery Lake Hotel
A person who is eligible to vote but has not received a Voter Registration Document or requires further assistance should contact Joyce Yetman, Ratification Officer 1-204-679-0506 or joyceyetman2017@gmail.com for further assistance.
NCN Ratification Voters List – Are YOU On It?
The Voter's List is prepared for the Nisichawayasihk Cree Nation Community Ratification Vote (Nisichawayasi Aski Pumenikewin land code) to be held on July 21 – August 25, 2017. All NCN Citizens 18 years of age on the day of the Ratification Vote are eligible to vote providing that the NCN Citizen has submitted a completed and signed registration document. Eligible Citizens that are not on this list are asked to contact the NCN Ratification Officer, Joyce Yetman by Ph/Txt: 204-679-0506, Fax: 204-484-2588, email: joyceyetman2017@gmail.com to be added to the list.
WE WANT YOUR COMMENTS AND INPUT…
For more information please contact:
Jeremiah Spence
Email: jeremiahspence@hotmail.com
NCN Lands and Resources Office
Box 393, Nelson House, Manitoba R0B 1A0
Phone: (204) 939-3805
OR
Land Code Development Committee
Email: ncnlandcode@gmail.com
NCN Lands and Resources Office
Box 393, Nelson House, Manitoba R0B 1A0
Phone: (204) 484-2970 Fax: (204) 484-2588