NCN Votes YES to Land Code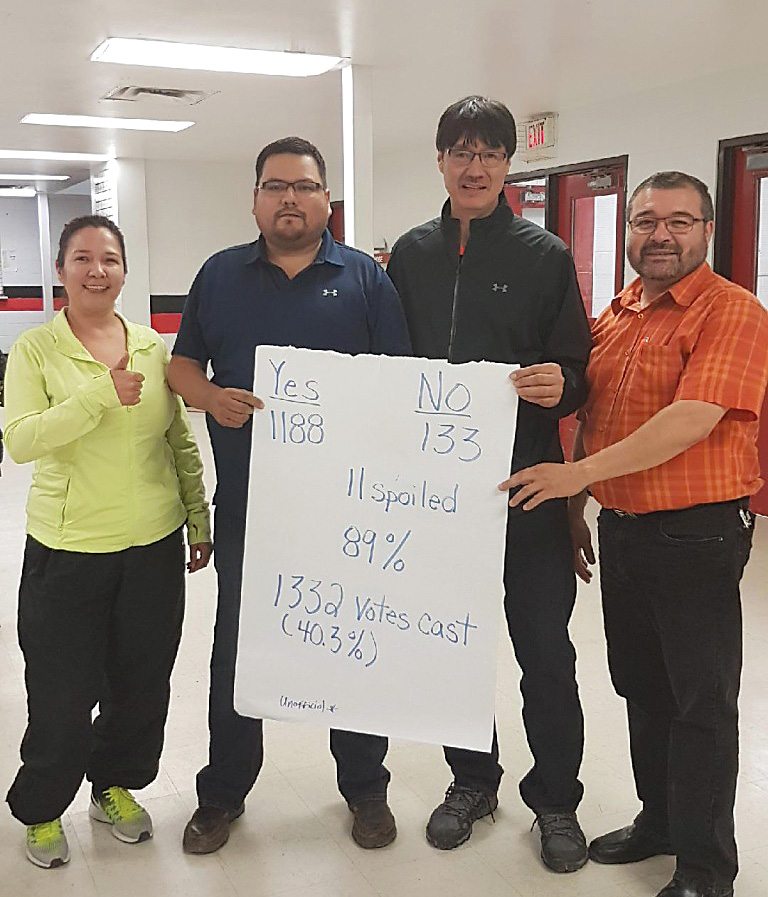 After years of tireless work and cooperation, NCN Citizens voted YES to our Aski Pumenikewin Land Code. In the future, our children and grandchildren will remember this as a time that NCN Citizens made a choice to create our own path forward for our people, our land, our community and our resources. The Land Code gives us formal and sole authority to determine the future of the lands and resources of our home.
The voting statistics were impressive, and can be reviewed in the chart below. For example, almost half of all eligible voters living in NCN (44%) made their voices known!
In fact, voter participation to adopt our land code was one of the highest ever seen across Canada among reserves working to create self-sufficiency. Of the 1,326 people who voted, almost 90% voted YES for our Land Code. It is obvious that self-governance is essential for NCN Citizens.
The road to achieving this important step in our sovereignty was difficult and long. The consultation process included workshops, public meetings and home visits throughout Nelson House, Thompson, Leaf Rapids and Winnipeg. Drafts of the documents were revised several times with suggestions from NCN Citizens incorporated.
The land code committee, Elders and other volunteers put in so much of their time, effort, minds, hearts and souls into this process. Chief and Council are very thankful for the hard work of all those involved.
Our Land Code is a clear victory, and it will lead the way to more programs and services for our Citizens.
Congratulations, Nisichawayasihk Cree Nation!
Eligible
Voters
Voters
Registered
Ballots
Cast
%
Voting
Number of
YES Votes
%
YES
Number of
NO Votes
%
NO
LEAF RAPIDS
138
14
41
30%
40
29%
1
1%
THOMPSON
339
122
122
36%
114
34%
8
2%
WINNIPEG
336
59
59
18%
53
16%
6
2%
NCN
1,582
702
702
44%
602
38%
95
6%
MAIL-IN
—
7
7
—
7
100%
0
0%
E-VOTE
—
395
395
—
372
94%
23
6%
WITHIN MB, US, CA
912
—
—
—
—
—
—
—
TOTAL
3,307
1,326
1,326
40%
1,188
36%
133
10%
Notes:

There were 5 spoiled/rejected ballots and 2 ballots with no registration
All percentages have been rounded
Some voters registered in a different location than they live so their ballots are included where they registered in-person