2018 NCN Chief and Council Election Results
Marcel Moody re-elected as NCN Chief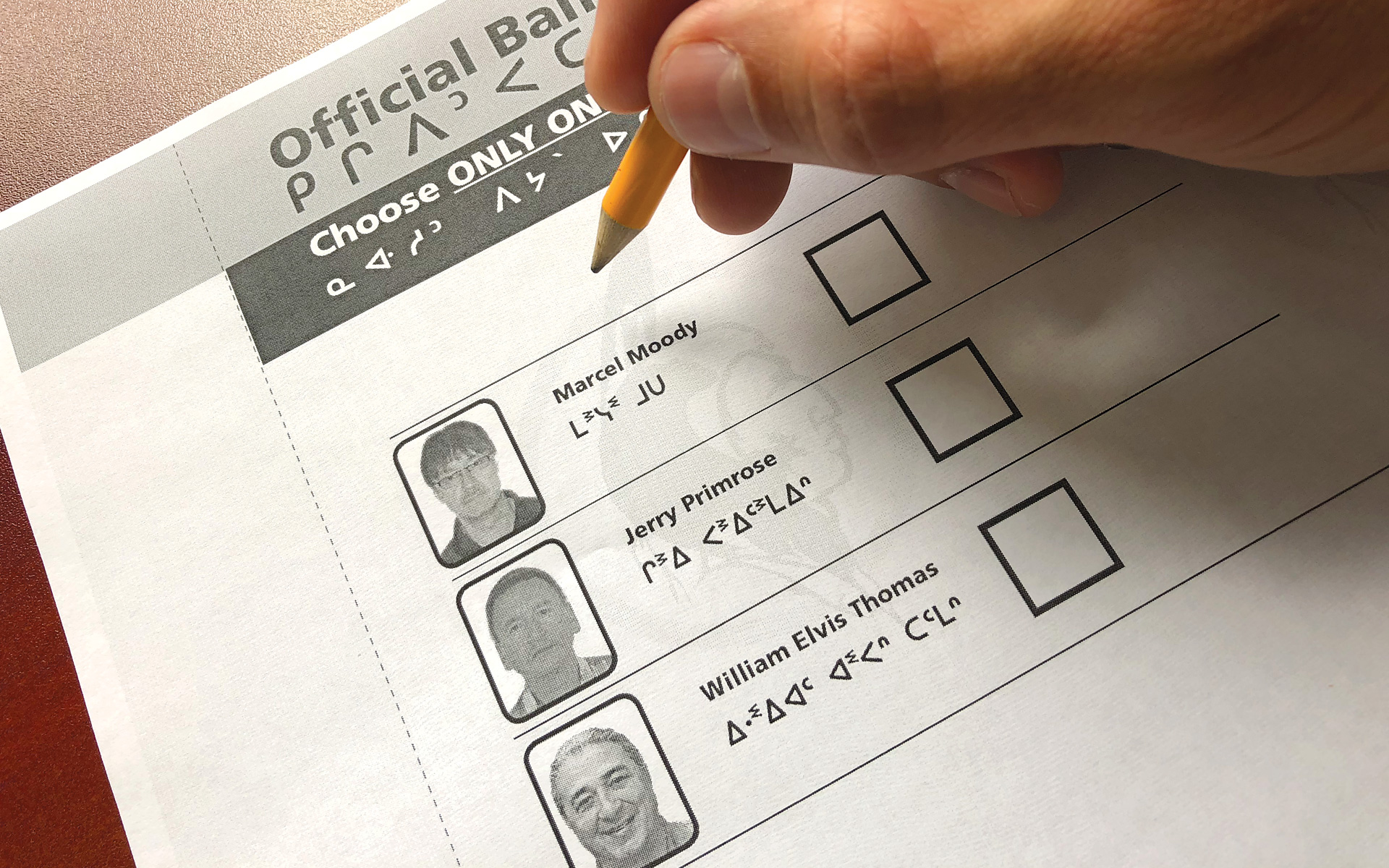 The people of NCN have re-elected Marcel Moody as Chief to lead the Nisichawayasihk Cree Nation for the next four years.
Moody declared, as he had throughout the campaign, "We are just getting started. Much accomplished, more to do."
Citizens turned out to elect a Chief and six Councillor positions on August 22nd and 23rd. Voting stations were set up in Nelson House, Winnipeg, Leaf Rapids and Thompson.
NCN electoral officer Joyce Yetman announced that out of 3,431 eligible NCN voters living on- and off-reserve, 1,684 Citizens cast their ballots, which is a voter turnout of 49 per cent. That participation number is higher than the 2014 election, in which 47% of Citizens voted.
Incumbent Marcel Moody won in 2014 with 913 votes, and received even more confidence this year with 960 votes. He beat out Jerry Primrose (who served as NCN Chief for 16 years until 2014) and William Elvis Thomas.
Moody has lived his entire life in Nelson House and raised his family here. In his canvassing, he discussed the goals he had laid out in 2014 and what he had accomplished with Council in the four years since. Some of the highlights included:
adopting the Nation's own Othasowewin constitution and Aski-Pumenikewin land code
building 138 new housing units and repairing many more
creation of multi-plex, lagoon, ATEC expansion, arbour, Medicine Lodge staff housing units
economic development such as Three Family Foods stores, National Access Cannabis, gas station and convenience store in Thompson
feasibility studies and designs for two new schools, new sub-division, water treatment plant and community health centre
long-term community plan
significant increase in revenues and prudent fiscal management.
Jerry Primrose stepped back into politics in the hopes of addressing major concerns such as inadequate housing and outdoor recreational facilities. He told the Thompson Citizen he was not overly concerned with winning or losing, and said, "If it's not competitive people tend to get complacent."
William Elvis Thomas was the third candidate for Chief, and has run in two previous elections. In 2014, he finished second behind Moody, and in 2010 also came in third.
Citizens voted for six Councillors and had 26 people to choose from. Incumbents Willie Moore and Ron D Spence retained their spots on Council. The four new Councillors are Cheryl Moore, Jackie Walker, Jeremiah Spence and Cheyenne Spence.
Cheryl Moore received the most votes for Councillor at 704. According to Nisichawayasihk election law, she will serve as Deputy Chief. Moore currently works at the NCN Trust Office as a finance comptroller. She was born and raised in NCN and is fluent in Nehetho. Her campaign platform was based on financial responsibility and accountability, good communication and community input, and creating a responsible community.
"I'm grateful to all Citizens who ran for a position in this election, and I'm proud of the Citizens who learned about the candidates, and came out to vote for our leadership," said Moody. "I'm excited to work with our new Council and to continue to make progress and strengthen our Nation."
VOTE RESULTS – By the Numbers
Total voter turnout 1,684
| | | | | | |
| --- | --- | --- | --- | --- | --- |
| | Candidates for Chief | Aug-22-2018 | Aug-23-2018 | | Total |
| | *Moody, Marcel | 504 | 456 | | 960 |
| | Primrose, Jerry | 180 | 227 | | 407 |
| | Thomas, William Elvis | 154 | 150 | | 304 |
| | | | | | |
| | | | | | |
| | Candidates for Council | Aug-22-2018 | Aug-23-2018 | | Total |
| 1 | *Moore, Cheryl | 348 | 356 | | 704 |
| 2 | *Spence, Ron D. | 309 | 307 | | 616 |
| 3 | *Moore, Willie (Buckoose) | 291 | 316 | | 607 |
| 4 | *Spence, Jeremiah | 272 | 310 | | 582 |
| 5 | *Walker, Jackie | 276 | 291 | | 567 |
| 6 | *Spence, Cheyenne | 273 | 278 | | 551 |
| | | | | | |
| | | | | | |
| 7 | Linklater, Shirley | 281 | 242 | | 523 |
| 8 | Linklater, Kim | 253 | 250 | | 503 |
| 9 | Linklater, Bonnie M. | 241 | 253 | | 494 |
| 10 | Moose, Joe | 218 | 197 | | 415 |
| 11 | Warren, James | 214 | 201 | | 415 |
| 12 | Spence, Conrad | 192 | 206 | | 398 |
| 13 | Linklater, Terry (T-Bone) | 170 | 188 | | 358 |
| 14 | Dumas, Gordon | 180 | 169 | | 349 |
| 15 | Kobliski, Carol | 129 | 155 | | 284 |
| 16 | Linklater, Darcy N. Sr. | 138 | 124 | | 262 |
| 17 | Linklater, Darcy B. Jr. | 109 | 114 | | 223 |
| 18 | Kobliski, Susan | 110 | 109 | | 219 |
| 19 | Primrose, Edward (Eddy) | 117 | 100 | | 217 |
| 20 | Vystrcil-Spence, Inez | 106 | 109 | | 215 |
| 21 | Vystrcil, Eddie | 87 | 89 | | 176 |
| 22 | Linklater, Francis D. | 78 | 82 | | 160 |
| 23 | Linklater, Nina | 67 | 80 | | 147 |
| 24 | Francois, Carl | 66 | 60 | | 126 |
| 25 | McDonald, Roxanne | 27 | 41 | | 68 |
| 26 | Bonner, Russell | 24 | 16 | | 40 |